We all know it – it's here: FLU SEASON. The slightest throat tickle, gentlest cough, smallest rise in body temperature can set us on red alert. But does life stop when we get sick? Of course not. We work, run errands, attend meetings, keep schedules, cross off to-do lists – all on top of trying to put food on the table, get to that workout, keep up on social media, answer emails and text messages, and who knows what else!
Ready for worse news? Brace yourself: winter is no longer the only "flu season." Ever gotten flu symptoms in summer and thought, "It can't be the flu, it's not winter!" The flu is year-round. This is why it is crucial is keep our immune system in tip-top shape using the tips below. Already have the flu? Don't worry, you can banish it from your system fast with these tricks.
Boosting the Immune System
The key to staying healthy all winter long – and staving off other illness and dis-ease in our bodies all year round – is a strong immune system. Even if you do get the flu, a strong immune system will help you overcome it faster and easier.
The crucial piece to a prevailing immune system? Your diet.
Whatever diet you subscribe to – vegan, paleo, omnivore, etc. – bringing in more fruits and vegetables, especially in their raw form, will strengthen your body's ability to fight sickness. You can read more about the minerals and trace minerals in fruits and vegetables in my recent blog posts – and how absolutely necessary they are to build your immune system.
Don't know where to start? Here's a secret to get the most out of your fruits and vegetables this winter: eat seasonally.
Our bodies' needs shift just as the seasons do. Our blood actually changes with the demands of the environment and the season. (The wonders of the body never cease to amaze me!) Your blood is actually thicker in the winter; that's why certain vegetables are meant to nourish our bodies at certain points in the year. In winter months, root vegetables and herbs become more important for your body. Carrots, potatoes, beets, ginger, turmeric, etc. all provide immune-boosting vitamins and minerals. This is why it's great to support local farmers markets – whatever is in the stands it what is in season! Here is a guide to see which vegetables are in season in your corner of the world.
One of my personal secrets to a solid immune system? Cranberries!
I have a freezer in my garage JUST for cranberries! When the winter months come and cranberries are in season, I stock up. Not only do cranberries boost the immune system, but they also clean out viruses that tend to hang out in the bladder on their way out of the body. When being sick, it's important to bring in cranberries to make sure those unwanted living organisms don't linger any longer than they have to. Scroll below to see an immune-boosting cranberry recipe!
Stay hydrated!
Are you drinking lemon honey water first thing every morning? This hydrating drink keeps our lymphatic system and liver working their best. To make lemon honey water, squeeze the juice of half a lemon into 16 ounces of water. Mix 1-2 tsp of raw organic honey and drink on an empty stomach in the morning for the most benefit. Especially in the winter months when the air can become more dry with the use of indoor heating, the body needs more liquids to be running optimally.
Teas are also beneficial for keeping an iron-clad immune system. Lemon balm, nettle, and rosehip are all immune-boosters, as well as red raspberry leaf tea. Red raspberry leaf isn't just for women and their lady parts – it strengthens the white blood cells so your body can fight off dis-ease and infections. Read more about the benefits of different teas.
One of my secrets to a powerful immune system is the Super Immune Juice!
Support with high quality supplements.
Of course, it is also crucially important to get enough zinc and B12 in your system to up your immune system. Read more about how zinc is vital for immunity.  Cat's claw is also a powerful way to strengthen your immune system (see why here). Taking the right supplements can absolutely do wonders for your immunity and your health.
Of course, use your common sense when preventing the onslaught of flu; wash your hands frequently and keep them away from your face, keep your distance from people who are coughing, etc. If you begin to feel tired and run-down, make it a point to get more rest – no matter how long your to-do list is. Once the flu hits, you don't have the choice to rest – you're forced to… and everything you've worked so hard to balance falls out of whack. So what do you do once the flu has taken hold?
Here's How to Stop the Flu Without Meds
Okay, yes, prevent the flu with a strong immune system. Even those with strong immune systems can be affected by strong strains of the flu, although likely not as long or as intensely. So what do to when it hits?
Take elderberries in some form.
Elderberries are one of the most effective remedies for viral and bacterial infections such as colds and flu, and can substantially shorten the duration of your illness if you get sick. They also significantly empower the immune system by boosting the production of cytokines in the body, which help fight viruses and inflammation. Elderberry syrup is easy to make (here's the recipe that works for my family) or can be bought online or in a health foods store. I highly recommend stocking up, as there was a shortage last year! Elderberry is also available in capsule or tincture form.
Drink garlic water.
Garlic is anti-viral, anti-fungal, and helps banish bacteria fast. It is a natural antiobiotic that also keeps your good bacteria around. It purifies the blood and helps with many other bodily functions. (To see another garlic remedy, and several other flu-fighting remedies, check out my Cold & Flu Ebook!) To make garlic water, smash 2 garlic cloves and add 10 ounces of water. Let it sit for 20 minutes to 2 hours, strain it, then either sip or slam it.
Consume root broth.
Broth made with any root vegetable and spices is great for cleaning out sinuses. In my Cold & Flu eBook, I give a special recipe for a root broth I love and use with my family.
Drink tons of tea.
Chamomile tea can help soothe the stomach and increase hydration. My eBook has more teas for specific flu symptoms.
Use certain essential oils.
To fight off the cold and flu when it comes, one drop of rosemary essential oil on the top of each foot helps strengthen the immune system. If  there is nausea or achiness, one drop fennel and one drop eucalyptus globulus in calendula oil on the belly helps. To help with achiness, ridding the body of the flu, and fighting fevers, I combine 10-15 drops of St. John's Wort oil with two drops of black pepper oil and two drops of yarrow (here's more on why yarrow is essential to have on hand). I massage this up and down the spine. For headaches with the flu, make sure enough fluids are being taken in (see above recipe for lemon honey water for deep hydration). Putting one small drop of peppermint oil on your pinky finger and placing under the tongue will help with circulation to the head. For high-quality and clean essential oils, I use the Primavera brand from Goddess of Spring. You can use my coupon code amberbodilyhealth for a discount at checkout.
Increase your zinc.
If you're already sick, increasing your zinc will beat back the sickness faster. Add in echinacea and/or cat's claw for more flu-fighting ferocity. As always, also support your body with the right kind of Vitamin C.
Recommended products
Zinc
Elderberry
Echinacea goldenseal
Cat's claw
Cranberry Immune-Booster Recipe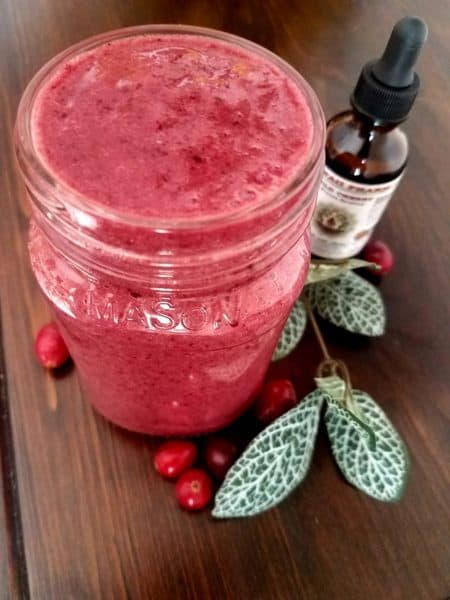 Combine all ingredients in the blender, and enjoy!
Banana
Bananas are one of the most nutritional and healing fruits readily available today. They are 76% water and are packed with vitamins such as vitamins C and B6, as well as minerals such as potassium, copper, and manganese. This high water/nutrient ratio makes them a great electrolyte food, perfect for busy moms, workout enthusiasts, and people on the go. They contain powerful anti-fungal and antibiotic compounds as well as protease inhibitors which can help stop viruses in their tracks.
Wild cherry bark
This medicinal herb is derived from the black cherry tree that has been used for hundreds of years due to its antiviral, antibacterial, and anticancer properties. It is rich in minerals such as zinc, iron, calcium, and magnesium and phytochemicals. Wild cherry bark also contains properties that significantly help to remove mucus from the lungs and increase lymphatic system function. This is why wild cherry bark is a common ingredient found in cough syrups, and is an effective remedy for respiratory conditions such as bronchitis, laryngitis, asthma, pertussis, colds, flu, and chronic lung congestion.
Wild blueberry powder
There are two types of blueberries, the larger cultivated berries that are commonly seen in the fresh produce section in the supermarket, and the smaller, more flavorful, and significantly more nutritious wild blueberries. Loaded with antioxidants, vitamins, and minerals, these sweet and satisfying berries provide copious potential health benefits. They are excellent liver and blood cleansers, and are vital to the health of eyes and the digestive tract. Wild blueberries also have the ability to repair tissues and cells and keep the immune system strong. Read more on the miracle of wild blueberries here. Wild blueberries can typically be found in the frozen fruit section of the grocery store or as a concentrated powder.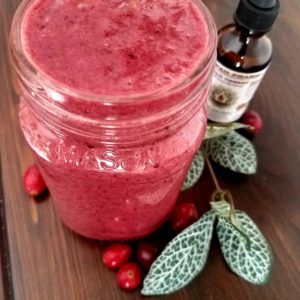 Cranberry Immune-Booster
This cranberry drink is filled with ingredients that have immune-boosting properties. Cheers to beating back sickness!
Ingredients
1 ½ cups cranberries

1 banana

1 cup aloe vera juice

6 full droppers wild cherry bark

1 Tbsp wild blueberry powder
Instructions
Combine all ingredients in a blender.
Recipe Notes
See above recommended products for certain brands of aloe juice, wild cherry bark, and wild blueberry powder that are high-quality and clean.
Here are more resources for your immune system:
Ignite the Healer within,
Amber Bodily
P.S. I gathered all of my BEST information for having a powerful immune system in my online course: UNDEFEATED: Your Passport To A Powerful Immune System. Check it out here.