Are you ready to find out exactly how your body can heal from your symptoms or illness? Are you struggling through brain fog, fatigue, chronic illness, mystery symptoms, or a gloomy prognosis? Are you ready to take your health to the next level in 2019? Then read on…
We're almost midway through the #cranberrychallenge, and I have a special surprise…
A giveaway!
Yes! I am giving away a FREE 25 minute phone consultation, worth $95!!
About a decade ago, I developed an intuitive understanding of the well-being of my clients. I found that I could "see" into their organs, "hear" what their body was calling for and "feel" the trauma in their cells. Just looking at someone or hearing their voice, I have a keen perception of the state of their health and how they can heal. During a phone consultation, I use this deep intuition combined with my extensive training in nutrition, herbology, and aromatherapy to pinpoint the root cause of the body's symptoms and create a tailored program for the body's renewal.
Cassey Smith, doula and yoga instructor, says: "I have learned so much from Amber! She is such an incredible teacher, healer, and friend. It has been incredible to work with her over the phone and have her so tuned into to my body and its current nutritional needs. She has given me such a specific and detailed plan of how to enrich and improve my nutrition and my health. She lives what she teaches and is an inspiration to so many!"
Hanna Hermanson, owner of DreamLifeisRealLife.com, says: "I feel understood and supported by Amber. She recognized imbalances and discomforts in my body that no one has been able to articulate before! Amber was able to give me lists and lists of healthy foods I can easily integrate into the meals and lifestyle I already have. In addition, I have a daily routine of supplements and simple movements that are helping to clean up my body and mind! In just a few weeks of implementing most of her recommendations, I have more energy and flow in my body, which is allowing me to sleep better and be more efficient in my life and work! I am so grateful for her ability to meet me where I am at, simply explain what is happening with my body AND give me actionable steps to improve my health in 1 short and relaxing visit!"
So how do you get in on the giveaway for a free phone consultation?
Follow me on Instagram (@amberbodilyhealth).
Join the #cranberrychallenge: consume cranberries every day from Dec 17-31st and post a picture to your Instagram feed or story, tagging me and using the hashtag #cranberrychallenge. Those have been participating all month long will get BONUS entries into the drawing for a free phone consultation! The sooner you start, the more entries you get – but be sure to get those cranberries in during the 17th-31st!
Watch my Instagram for the winner announced January 1st!
Need some recipe inspiration for daily cranberries? Check out my previous posts with the Cranberry Lemon Pear Refresher or the Cranberry Immune Booster. I have also rounded up some deliciousness for you below.
Crushin' on Cranberries: Recipes to Get You Started
Cranberry Drizzle
Add a burst of cranberry flavor with a twist of sweetness to spruce up any salad. This super clean dressing is also packed with antioxidants, minerals, vitamins, and virus-fighting compounds ready to enhance your health!
Ingredients
1/2

cup

fresh lemon juice

(from about 4 lemons)

1/3

cup

pure maple syrup

1/3

cup

fresh cranberries
Instructions
Blend and add to any salad!
Recipe Notes
Optional add-ins: pecans, sliced pear, chopped apples, and dried cranberries. For those not avoiding fats, add ⅓ cup organic tahini to create a lovely creaminess.
Vegan Cranberry Apple Muffins
Add delight to your morning with these clean, easy muffins that are full of nutrients and health benefits. The sweetness of the apple perfectly balances the tartness of the cranberry - what a play of flavor!
Ingredients
2

cups

buckwheat and/or millet

2

TBSP

golden Flax seed

1

c

sugar

(rapidura or raw sugar cane)

1

tsp

Himalayan Sea salt

1

tsp

baking soda

2

c

water

1

c

cranberries and 2 c chopped apple

2

TBSP

lime juice

1

c

of raw pecans/walnuts
Extras to fold in:
1/4

c

raw sunflower seeds

1/4

c

shredded apple

1/2

c

chopped cranberries
Instructions
Blend buckwheat and/or millet and flax seed. Dump into mixing bowl.

Blend sugar, pecans/walnuts, salt, baking soda. Dump into mixing bowl.

Blend water, cranberries, chopped apple and lime juice in blender. Dump in mixing bowl.

Stir all ingredients together in the mixing bowl.

Pour into bread pan or muffin tins.

Bake for 25 min at 350 degrees.
Cranberry Water by Medical Medium
A Liver Rescue recipe
4 cups water
1 cup fresh cranberries
3 tablespoons lime
1. Blend the water and cranberries together until well combined.
2. Strain through a sieve or nut milk bag.
3. Whisk the lime juice and raw honey into the cranberry water until the raw honey has completely dissolved.
4. Serve and enjoy!
A Liver Rescue recipe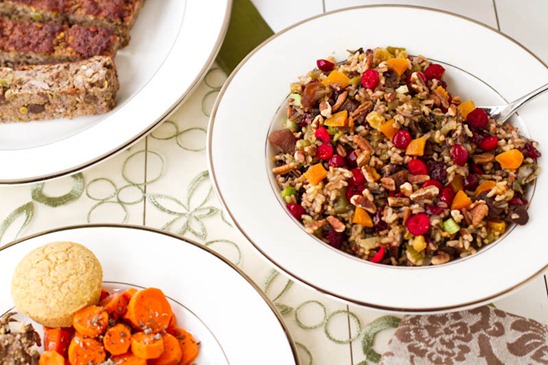 *Note: I recommend omitting the red wine vinegar and substituting with lemon juice.
*Note: I can only recommend the soup recipe on this page.
If you're worried about finding cranberries while on the go, I recommend this cranberry juice powder. It is versatile enough to add to water, fresh juice, smoothie, organic pure applesauce, or anything else you can think of!
Until next time – take care.
Blessings,
Amber
*Disclosure: This post contains affiliate links. At no cost to you, I may earn a small commission from the sale of these products. This assists my work in supporting others on their healing journey to health.