Cranberries in smoothies? Easy. But… now what?
If you're looking to incorporate cranberries in your diet, here are some fun creative and clean recipes to try!
To learn more about the #CranberryChallenge, see this post.
Crushin' on Cranberries: Recipes to Get You Started
Cranberry Drizzle
Add a burst of cranberry flavor with a twist of sweetness to spruce up any salad. This super clean dressing is also packed with antioxidants, minerals, vitamins, and virus-fighting compounds ready to enhance your health!
Ingredients
1/2

cup

fresh lemon juice

(from about 4 lemons)

1/3

cup

pure maple syrup

1/3

cup

fresh cranberries
Instructions
Blend and add to any salad!
Recipe Notes
Optional add-ins: pecans, sliced pear, chopped apples, and dried cranberries. For those not avoiding fats, add ⅓ cup organic tahini to create a lovely creaminess.
Vegan Cranberry Apple Muffins
Add delight to your morning with these clean, easy muffins that are full of nutrients and health benefits. The sweetness of the apple perfectly balances the tartness of the cranberry - what a play of flavor!
Ingredients
2

cups

buckwheat and/or millet

2

TBSP

golden Flax seed

1

c

sugar

(rapidura or raw sugar cane)

1

tsp

Himalayan Sea salt

1

tsp

baking soda

2

c

water

1

c

cranberries and 2 c chopped apple

2

TBSP

lime juice

1

c

of raw pecans/walnuts
Extras to fold in:
1/4

c

raw sunflower seeds

1/4

c

shredded apple

1/2

c

chopped cranberries
Instructions
Blend buckwheat and/or millet and flax seed. Dump into mixing bowl.

Blend sugar, pecans/walnuts, salt, baking soda. Dump into mixing bowl.

Blend water, cranberries, chopped apple and lime juice in blender. Dump in mixing bowl.

Stir all ingredients together in the mixing bowl.

Pour into bread pan or muffin tins.

Bake for 25 min at 350 degrees.
Cranberry Water by Medical Medium
A Liver Rescue recipe
4 cups water
1 cup fresh cranberries
3 tablespoons lime
1. Blend the water and cranberries together until well combined.
2. Strain through a sieve or nut milk bag.
3. Whisk the lime juice and raw honey into the cranberry water until the raw honey has completely dissolved.
4. Serve and enjoy!
A Liver Rescue recipe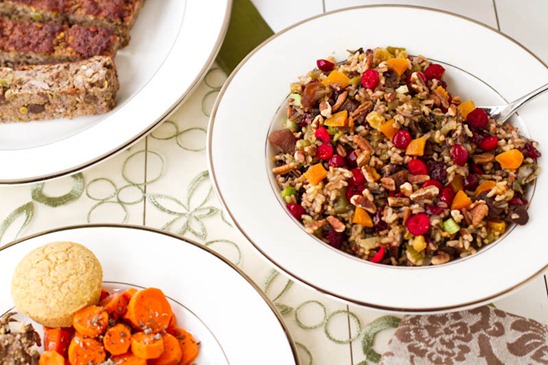 *Note: I recommend omitting the red wine vinegar and substituting with lemon juice.
*Note: I can only recommend the soup and cranberry salsa recipe on this page.
If you're worried about finding cranberries while on the go, I recommend this cranberry juice powder. It is versatile enough to add to water, fresh juice, smoothie, organic pure applesauce, or anything else you can think of!
Until next time – take care.
Blessings,
Amber Bodily
P.S. If you're looking for more clean plant-based recipes, check out my online course Go Vegan For 30 Days: The Ultimate Recipe & Meal Plan To Refresh Your Health.