MORE ENERGY
BETTER IMMUNITY
PAIN REDUCTION
MENTAL CLARITY
BREATHE EASIER
IMPROVED DIGESTION
STRENGTH BUILDING
MUSCLE AND TISSUE RECOVERY
JOINT MOBILITY
REDUCED INFLAMMATION
STRESS REDUCTION
WELL-BEING
Hi there,
Every so often something comes into my awareness that is PHENOMENAL for healing and I am compelled to share it.  This is one of those times.  This tool that I want to share with you has powerful capabilities that are backed by science.  The technology is absolutely amazing.  It generates Scalar Waves which create a Pure Life Force Energy that allows the body's cells to work optimally.  When the body works at it's best, it knows what to do to improve the quality of your life and thrive.  My mission is to help you empower your health in any and all ways that I can.  My wish is that if you need this, you will find this information, and it will resonate with you as it did with me.  You will know if this is the right thing for you on your healing journey after you read this page.
Happy Healings,
Amber
<<>>
What is it?
Tesla BioHealers and MedBed Generators are over the counter medical devices. Watch here to learn more about what these devices do for the body:
<<>>
What does it do?
TESLA TECHNOLOGY: Here is how it works according to the Tesla BioHealing Website:
Known benefits of Life Force Energy (Biophotonic energy) include but are not limited to:  
-Increasing the energy levels 
-Increasing cellular energy, increasing cellular repair rates, and decreasing cellular destruction rates 
-Improving cell wall permeability thus facilitating the intake of nutrients into each and every cell and more efficiently eliminating waste from the cells 
-Increasing circulation, decreasing inflammation, and providing significant pain relief  
-Improving sleep quality, regulating emotions, and improving mental clarity  
-Increasing immunity
-Helps to reduce or eliminate pain
-Supports cellular regeneration
-Helps the body repair damaged cells
-Promotes production of healthy blood cells
<<>>
How do I use it?
These devices need to be used for 8 hours a day.  Sleeping is the easiest time to get your Tesla Time in.  You must be within 3-6 feet of the device to get the healing benefits. Here is my son Liam taking a nap with one:
<<>>
What types of devices are they?
There are two types of devices.  The MedBed generators and the BioHealer generators.  The MedBeds are designed to go underneath your bed.  The BioHealers are designed to go where you go; next to your bed, in your bed, on your desk, in your backpack, or wherever you need them.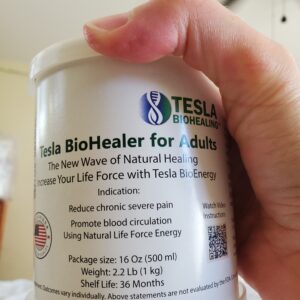 Here is an overview of the types of BioHealers available:
<<>>
Grab yours HERE
Use Code ABH5 to save 5%
<<>>
What is best for me?
This chart shows which Tesla BioHealing Tool would work best for you: (screenshot to enlarge)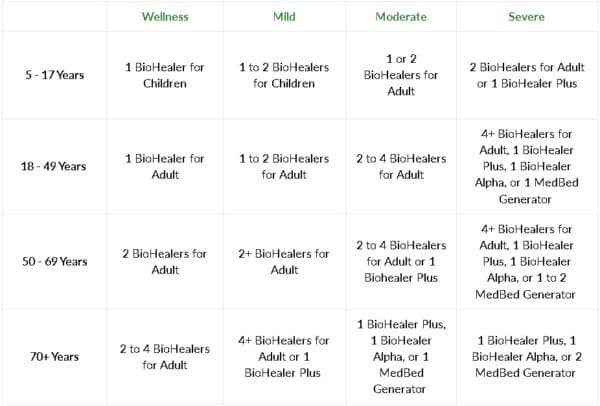 <<>>
But I have more questions!
Read the FAQs HERE
<<>>
Are there any reviews?
These are just a few of my own clients' personal testimonials.  If you have purchased a BioHealer through me, contact me to let me know how you love it!
…
"I have been sleeping next to my BioHealer for about a month now and I have lots of great things to share. I sleep more deeply and feel like I am getting restorative sleep. My blood pressure is going down and I am weaning off of my bp meds. My anxiety levels are lowering and I am weaning off of my anxiety meds. I have more energy during the day.  I have less cramping and headaches during my cycle.  I LOVE THIS PRODUCT!!!"- RF
…
"I had the CVD virus in January and it turned into "long-hauler syndrome". After the main symptoms subsided, I still had residual dizziness.  Not a spinning sensation, but more of an inflammation and pressure that felt like it was in my upper cervical, inner ear, and jaw. It was debilitating to where I couldn't get much of anything done. I tried so many things to combat the situation, icing, chiropractic, herbs, ear drops, mouthpiece, tinctures, everything and anything. I prayed many times to ask for guidance. The tools I used helped in little bits, but then Amber told me about the Tesla BioHealer. After reading about it on the website and learning how it works, I knew that's what I needed, plus I trust Amber with my health more than anyone. I ordered it and started sleeping next to it right away. The first day I woke up, I felt a tremendous sense of well-being and joy. Then as each day passed, I felt better with less and less inflammation. After 1.5 weeks into using it, my dizziness was GONE! I was scared to get excited thinking it might be a fluke, but I still kept getting better and stronger. After feeling like I was losing hope for 5 long months, I was amazed! It helped my body overcome this last obstacle that felt insurmountable.  Now I'm a month into using it and I feel better and better every day. I sleep so good with vivid dreams, the kind of sleep that is deeply healing. I wake up feeling euphoric. Every person should have a BioHealer, seriously just go read what they do and see for yourself. Thank you Amber for always knowing what the best tools are and exactly what people need, you are an angel!" -D.F.
…
<<>>
Take a step towards your healthiest version of you
and grab yours HERE
Use Code ABH5 to save 5%