A special way to celebrate the holiday season is to enjoy some special treats! Here are some of my favorite recipes. Enjoy!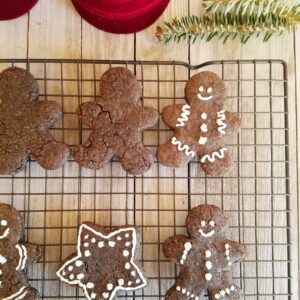 Clean Gingerbread Cookies
Run, run, run to make this yummy clean recipe! Protein and mineral rich, these cookies are perfect for the holidays - catch one before they're gobbled up and gone!
Ingredients
2

flax eggs

1 flax egg = 1 Tbsp ground flax + 3 Tbsp warm water

1

cup

rapidure sugar

½

cup

almond butter

6

Tablespoons

molasses

½

cup

coconut oil

1 ½

tsp

ginger spice

1

tsp

cinnamon

½

tsp

nutmeg

½

tsp

himalayan salt

1

tsp

baking soda

2 ½ to 3 ½

cups

ground buckwheat
Instructions
Preheat oven to 350 degrees Fahrenheit.

In a large bowl, whisk together the sugar, ginger, cinnamon, nutmeg, himalayan salt, baking soda, and buckwheat.

In a separate bowl or liquid measuring jug, mix together the flax eggs, almond butter, molasses, and coconut oil.

Pour the mixed wet ingredients over the dry ingredients and mix together.

Form into cookie shapes and bake for 8-10 minutes. Let cool and enjoy!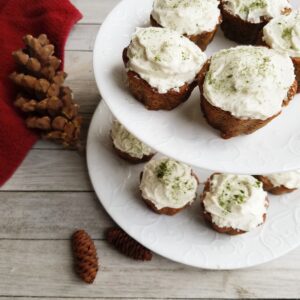 Vegan Vanilla Cupcakes
Whether you are celebrating a birthday or a holiday, these cupcakes are absolutely worth it! Not to mention they are made with clean ingredients. Frost with homemade frosting, or in a pinch Simple Mills frosting works too!
Ingredients
Scant ½ cup unsweetened plain plant milk

¼

tsp

lemon juice

1 ½

tsp

baking soda

2

chia eggs

1

cup

maple syrup

¼

cup

unsweetened applesauce

½

cup

melted coconut oil

1

tsp

pure vanilla extract

½

tsp

baking powder

¼

tsp

sea salt

⅔

cup

almond meal

plus more as needed

⅓

cup

gluten-free oat flour

1

cup

of gluten-free flour blend

see note
Instructions
Preheat the oven to 350 degrees F. Line 12 muffin tins with nontoxic paper liners.

In a small mixing bowl or liquid measuring cup, combine the plant milk, lemon juice, and baking soda. Stir. Let sit for 5 minutes.

In the meantime, prepare the chia eggs in a large bowl. (1 chia egg = 1 Tbsp chia seeds + 3 Tbsp water.) Let sit for 5 minutes.

Into the bowl with the chia eggs, add the maple syrup and plant milk mixture and beat to combine. Then add the applesauce, coconut oil, vanilla, baking powder, and salt. Mix.

Add the flours. Beat or whisk to combine. If the batter appears too thick, add a little plant milk. If too thin, add a little more of one of the flours. The batter should be thin but pourable.

Divide the batter evenly among the muffin tins, filling them ¼ full (there should be enough for 11-12 cupcakes). Bake for 24-31 minutes or until puffy, golden brown, and a toothpick inserted into the center comes out completely clean.

Remove the cupcakes from the oven and let sit in the tins for 10-15 minutes. Carefully remove them from the tins and let cool completely on a cooling rack. To prevent the cupcakes from sticking to the wrapper, let them cool completely before removing the wrapper.

Frost and garnish (fresh raspberries or thawed wild blueberries are amazing!) and enjoy!
Recipe Notes
Best within 24 hours, but leftovers be stored covered at room temperature for up to 3 days. For holiday cheer, I sprinkled Barley Grass Juice Powder on top of vanilla frosting from Simple Mills.
Gluten-free flour blend: 1 cup coconut flour, 1 cup buckwheat flour, ½ cup gluten-free oat flour.
Want to decorate some holiday cookies? Here's a great base!
Christmas breakfast, anyone? Whip up this deliciousness easily with an Instantpot or steamer. (Note: due to the starch in this recipe, this is good for a once-in-awhile treat.)
Another option for a yummy holiday breakfast! You could enjoy these plain, or even add homemade icing and top with fresh berries.
These nut-free coconut-y morsels melt in your mouth and are a cute little treat!
A healthy twist on a classic treat. Not only will cinnamon make your home smell amazing, but it also prevents the flu and shortens the duration of the flu!
These bars are just as yummy in the winter as they are in the fall!
Want to impress holiday guests? These baked apples roses will do the trick – while giving the incredible health benefits of apples!
Want a simple, grain-free holiday treat? Here's another ginger cookie to try. These cookies come together quickly and smell like the most wonderful time of the year.
Combining both tangy and sweet, these cookies detoxify through the raspberries and support the central nervous system with the sesame and tahini.
Decorating Tips
I encourage you to be aware of additives in frosting and sprinkles…But don't worry! You can still enjoy colored frosting – the natural way.
To your frosting base, mix in these powders for different colors:
You can also top with fresh fruit to make all sorts of amazing decorative creations!
Enjoy your clean holiday treats! Happy baking!
Blessings,
Amber Bodily
P.S. To strengthen your immune system this holiday season, the perfect gift to yourself is my online course UNDEFEATED: Your Passport To A Powerful Immune System. Enjoy!