March calls for the celebration of St. Patrick's Day! Although this can be a day characterized by choices that aren't healing for your body, it doesn't have to be. Did you know March is also National Nutrition Month? Here are some kid-friendly nutritious green options for your table – and your home – this St. Patty's Day!
ENJOY A GREEN MEAL
Looking for a way to celebrate the "green" in this holiday? Nature will provide. Here's some ideas for drinks, dishes, and desserts!
GREEN DRINKS
Green smoothie
I love me a green smoothie! You can get creative, but here are some suggestions of what I would put in:
Nut/seed milk (our family favorite is sesame seed milk)
Barley Grass Juice Powder, which is a highly absorbable form of protein, vitamins, and minerals and cleanses the organs of toxic heavy metals
Spirulina, which is one of the most nutrient-dense foods and also removes toxic heavy metals
Greens! Spinach, Swiss chard, kale, basil, cilantro, collard greens, dandelion greens, sprouts, and more – these are all powerfully nutritious and healing for the body. Leafy greens are anti-viral, anti-inflammatory and anti-cancerous and are packed with vitamins, proteins, and minerals. They contain all eight of the essential amino acids and pack in more vitamin C than an orange!
Bananas, which provide life-giving glucose to the liver and adds a creaminess to the smoothie
Dulse, because if you're adding in all those other detoxing ingredients, we might as well throw in dulse to take the toxins out of the body!
Fruit – strawberries, kiwi, wild blueberries, mango
Celery juice or cucumber juice
I highly recommend starting your day with this wonderfully healing and cleansing juice. Celery juice is a powerful healer of eczema, acne, brain fog, Hashimoto's thyroiditis, fatigue, Lyme disease, celiac disease, diabetes, psoriasis, lupus, acid reflux, Epstein-Barr Virus, depression, anxiety, ADHD, and countless other conditions that so many are struggling with today. Read more about the wonders of celery juice here. Cucumber juice is also a powerful anti-inflammatory drink that awakens and restores the organs with vitamins, minerals, and much-needed hydration.
Green milk
Need a quick, easy option? Mix or blend some barley grass juice powder or spirulina with nut/seed milk and enjoy!
GREEN MEALS
Salad
What better way to celebrate the green in nature? Leafy greens are a wonderful tool for the body to revitalize and rebuild itself. Base your salad with romaine, spinach, chard, kale, collard green, dandelion greens, mache, mustard greens, or another favorite. Adding sprouts or microgreens on top of a salad can exponentially boost its nutritional value! For example, alfalfa sprouts are one of the most nutritionally rich foods and are packed with a full range of vitamins including A, D, C, K, and B-Complex, as well as minerals such as iron, calcium, magnesium, zinc, silicon, and molybdenum. They also contain blood healing chlorophyll and all 8 essential amino acids, which are the building blocks of proteins and can help increase bone strength and density. Alfalfa sprouts are one of the top sources of antioxidants among all vegetables and are excellent at helping to prevent heart disease, irritable bowel syndrome, diverticulitis, menopausal symptoms, colitis, macular degeneration, constipation, ulcers, and high blood pressure. Add chopped raw veggies to your salad (I love bell peppers, radishes, cauliflower, carrots, and others depending on the day!) and fruit (mango, strawberries, pears, apples, etc.). Pro tip: When eaten together, the healing capabilities of leafy greens and fruit are much more powerful! Here's my favorite green dressing: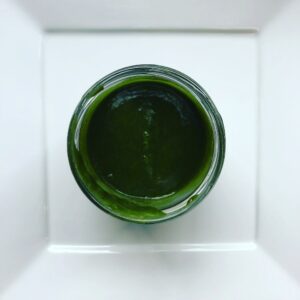 Cilantro Avocado Dressing
This is one of my favorite dressings! Packed with vitamins, minerals, and detoxifying power, I always have a jar of this in my fridge. Enjoy!
Ingredients
3

cloves

garlic

½

" chunk of ginger

½

bunch cilantro

½

avocado or ½ cup steamed potato

¼

cup

raw organic honey

¼

cup

coconut aminos

Juice of 1 lemon
Instructions
Blend together and enjoy over your favorite salad!
This is a wonderful recipe by Angela Liddon from Oh She Glows! I recommend leaving out the nutritional yeast and olive oil in the dressing. Enjoy this warm vegan version of a potato salad!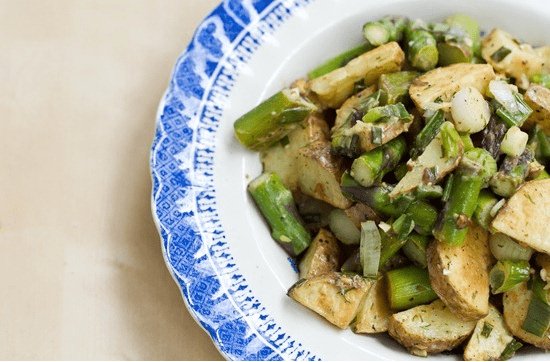 Sometimes you just need something warm. It can be challenging during winter to get greens in your diet – so this soup is a great solution. I recommend sautéing the onion and celery in a little bit of vegetable stock or water instead of oil.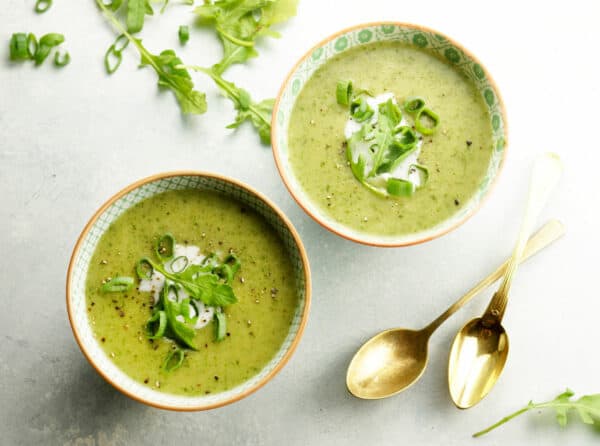 GREEN DESSERTS
Chia seed pudding
This is an easy dessert to prep the morning of or the night before. Play with the ratios to make the consistency to your liking!
Ingredients:
1/4 cup chia seeds
1  cup nondairy milk
1 Tbsp raw organic honey or maple syrup
1-2 tsp barley grass juice powder
Optional add-ins: chopped dates, nuts, dried fruit
Optional toppings: berries, banana, mango, kiwi, shredded coconut
Instructions:
In a container, mix the nondairy milk and the chia seeds. Let sit for 3-5 min, then stir again to get rid of any clumps. Let sit for 4-8 hours or overnight in the refrigerator.
Place chia seed & milk mixture into a blender (optional) and add the raw honey or maple syrup and barley grass juice powder. Blend or mix together in the container.
Stir in any add-ins and top with your favorite toppings – maybe even an extra dash of honey or syrup. Enjoy!
Green frosted cookies
I am a big fan of the these cookies from Megan Gilmore's blog Detoxinista. You can add barley grass juice powder or emerald pandan leaf powder to Simple Mills vanilla frosting, or whip up your own homemade frosting with soaked cashews and maple syrup blended together. Kids would love frosting their own cookie and enjoying this special treat!
GO GREEN AT HOME
The benefits of going "green" have been pronounced far and wide. Here are some simple steps to take:
REPLACE TOXIC CLEANERS
One of the first things I did to take toxins out of my home was to throw away conventional cleaners. Here are some great all-purpose cleaning solutions I use that are easy to DIY:
1 ¾ cup water, ¼ cup white vinegar, 20-30 drops of essential oil. I love using lemon or grapefruit because they are both antibacterial and a natural antiseptic.
Dilute a castile soap with water and add essential oils. Thieves is a great oil that neutralizes bacterial and viral pathogens.
I'll even add a few drops of essential oil to laundry detergent – the oil cycling with the time of year. For example, around Valentine's Day I will use rose or jasmine; summer will bring orange, lemongrass, grapefruit, or lemon; in fall, cinnamon or nutmeg; in holiday season, peppermint or clove; and other times sage or myrtle peru. I love the Primavera brand of essential oils because they are so high-quality and pure. (You can use the coupon code amberbodilyhealth at checkout for a discount.)
If you're not ready to dump all your cleaners in the trash, take one small step at a time. Educate yourself on what you are using in your home by looking at the Environmental Working Group's Guide to Healthy Cleaning.
BECOME AWARE OF YOUR WASTE
How often do you take out the trash? This will definitely depend on how many people live in your home, but regardless, become aware of how much packaging or waste you throw away. Did you know over 500 million plastic straws are used each day? That's enough to fill 127 school buses! Some easy replacements for us have been reusable straws and snack bags or containers. We also buy in bulk whenever we can and are aware of how much packaging we consume.
EAT MORE PLANTS
Adhering to a plant-based diet significantly reduces greenhouse emissions, research says. Not only is eating more plants associated with a longer life, it also cuts down on the resources that are used to produce food. There is a vast amount of research and data linked to the sustainability of this type of diet. I highly suggest educating yourself on the topic!
I hope you enjoy going green on your plate and in your home this St. Patrick's Day!
Blessings,
Amber
*Disclosure: This post contains affiliate links. At no cost to you, I may earn a small commission from the sale of these products. This assists my work in supporting others on their healing journey to health.