There's a multi-use sauce that often stars in our house – and it's always a big hit!
Below is my base recipe, but there are so many adjustments you can make based on the dish you are creating. I'll share some of our favorites!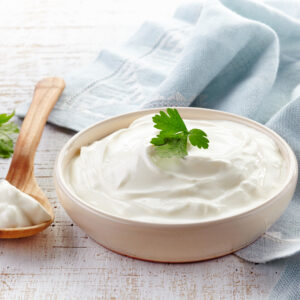 Basic White Sauce Recipe
We often use this sauce in place of sour cream on our tacos, but you can put it over pasta, on sandwiches or pizza, use as a dip (add less or no water), a dressing (add more water), drizzled over steamed veggies, and so much more! Let your creativity loose! You can feel good about the 3 simple, real ingredients. For those who are being mindful of their fat consumption (even good fats), this is a recipe to save when you are further along on your healing journey. Enjoy!
Ingredients
2

cups

raw cashews - soaked for at least an hour

rinsed, & strained

Juice of 2 large lemons

10

cloves

of garlic

we like it very garlicky! You could do 2-3 if you're not ready for so much garlic.

¼

cup

water

more or less depending on how thick you want it
Instructions
Make sure the soaked cashews are rinsed and drained of water. Add everything to a blender and blend on high for 2 minutes.

Drizzle, dip, dress up your dish! Store in an airtight container in the fridge.
Recipe Notes
Additions/Alterations:
- Add chives
- Add roasted bell pepper
- Add sunflower seeds
- Add black sesame seeds
- Add roasted garlic instead of raw garlic
- Make it sweet - omit the garlic, and instead add frozen strawberries and replace the water with pineapple juice to make a fruit dip
- So many more!
We love this on our jackfruit tacos. In case you want to give it a try, here's what we generally do:
Jackfruit Tacos
Shredded lettuce
Shredded cabbage
Chopped tomatoes
Chopped onions
Jackfruit, pulled apart and sauteed with cumin, chili, and onion powder
Chopped cilantro
White sauce as "sour cream"
Here's a video of my youngest, Liam, enjoying some white sauce on some Simple Kneads bread:
Cheers to some kitchen creativity! I can't wait to see what you make with it. Tag me on Instagram @ amberbodilyhealth to show me your creations!
Ignite the Healer within,
Amber Bodily
P.S. If you're looking for more plant-based recipes, check out my Go Vegan For 30 Days online course, which has over 100 plant-based recipes for you to enjoy!