Thanksgiving is right around the corner! Whether you have some dietary needs or just want a table of wholesome dishes, the recipes below are a healthy and delicious way to fulfill the tradition of celebrating nature's fall harvest. While making these recipes, choosing organic is always best – or being mindful of the Dirty Dozen and the Clean Fifteen.
Sample Menus
The below sample menus use a mix of the recipes in this post. Feel free to simply pick one, grocery shop, and enjoy your flavorful and wonderfully healthy plant-based Thanksgiving! Or, get creative and mix and match the recipes below to your liking.
Appetizers
There are so many options here! Since there are many easy quick options, I gathered them for you here – feel free to get creative!
Main Dishes
When turkey isn't the show-stopper of a plant-based or vegan Thanksgiving table, these dishes certainly could take its place – and rise above and beyond in terms of nutrition! Packed with vitamins, minerals, and tons of flavor, these main dishes will leave you feeling full and satisfied – but without the food coma. Enjoy!
CRANBERRY QUINOA STUFFED SQUASH
This dish is not only stunningly beautiful on the table, but it is also filled to the brim with tons of nutrition – and tastes amazing! The "squash bowl" is easy to digest, protects against heart disease, and strengthens the immune system due to its plentiful vitamins and minerals such as Vitamins A, E, C, B-complex, and beta carotene, iron, zinc, copper, calcium, and potassium. Quinoa provides the filling punch of protein, and of course I had to include cranberries for their antioxidant power and many other benefits! Enjoy the beautiful dish and feel wonderful afterward!
Making 4-8 servings, depending on if using as a main dish or a side.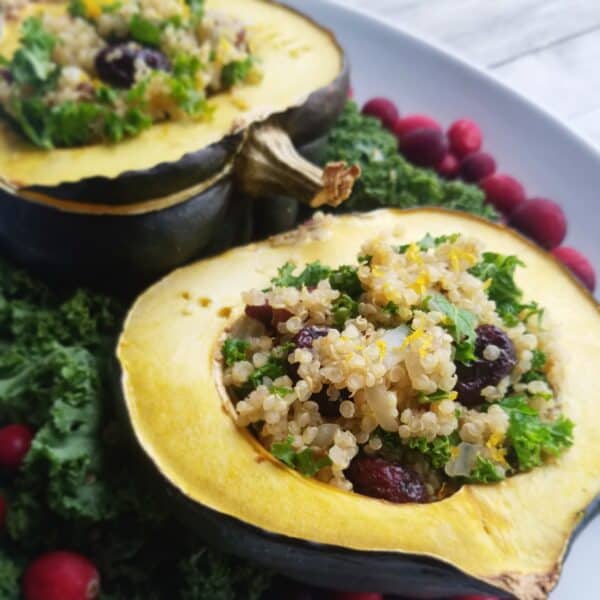 Ingredients:
2 large acorn squash
1 Tbsp water or organic vegetable broth
½ small onion, diced
2 cloves garlic, minced
¾ cup uncooked red or white quinoa
1 ½ cups water or organic vegetable broth
2 cups loosely packed kale or other greens, chopped
¾ cup pecans (optional)
¼ – ½ cup dried cranberries, to taste
Zest of 1 orange, plus 1 tablespoon fresh orange juice
Himalayan salt, pepper, or dulse granules to taste
Instructions:
If using, roughly chop the pecans and spread on parchment paper on a baking sheet.
Set the rack to the center of the oven and preheat to 425 degrees F. If using, put in the pecans to toast as the oven preheats. Watch closely so they don't burn. You can likely smell their toasted fragrance when they're just about done.
Fill a glass or ceramic baking dish with enough water to cover the bottom and set aside.
Carefully, with a strong and sharp knife, cut the acorn squash in half and scoop out the seeds.
Set the acorn squash cut face up in the baking dish. Place on the center rack and bake for 45-55 minutes, or until they can be pierced with a fork.
While the squash bakes, prepare the filling. In a large wok or skillet, heat 1 Tbsp water or broth. Add the onion and garlic and saute for 2-3 minutes, until translucent.
Stir in the uncooked quinoa and toast for 30 seconds to 1 minute. Then add the water/broth (optional: add himalayan salt & pepper).
Bring to a simmer, reduce heat, and cover. Let cook for 15-20 minutes, until all the liquid is absorbed by the quinoa. Remove the lid and fluff with a fork. Taste and adjust seasonings as necessary.
Stir in the dried cranberries, toasted pecans, and greens and cover for 3-5 minutes, letting the heat gently wilt the greens.
Remove lid and fluff again with a fork. Stir in the orange zest and orange juice.
Once the squash is done baking, remove from the oven and fill each cavity with the quinoa mixture.
Return to the oven for an additional 5-10 minutes to make sure it is all warm.
Serve hot. Enjoy!
ROASTED FALL VEGGIE SALAD
Hearty and flavorful, this veggie salad takes you on a delicious harvest ride! Full of traditional Thanksgiving vegetables such as brussel sprouts and sweet potatoes, this beautifully colored salad is a beautiful eye-catching addition to any table as a lighter main dish or a side.
Ingredients:
2 cups golden beets, peeled and cubed
2 cups Brussels sprouts, trimmed and halved
1 ½ cups fennel bulb, thinly sliced (reserve 1 Tbsp. fennel fronds)
1 Tbsp. sesame seed oil (or avocado oil)
¼ tsp. sea salt
Pinch of black pepper
3 cups sweet potatoes, cubed
1 bunch lacinato (dinosaur) kale, stems removed (or curly kale)
1 gala apple, cored and diced
¼ cup raw pumpkin seeds
¼ cup dried cranberries
Dressing, such as Cranberry Drizzle (recipe below), a simple squeeze of lemon, or whisked lemon and pure maple syrup together
Instructions:
Preheat your oven to 400F. Transfer the beets, Brussels sprouts, and fennel to a baking sheet. Toss with a little organic vegetable broth and sprinkle with sea salt and black pepper. Roast the veggies on the top rack for 25 to 30 minutes, until the beets and brussel sprouts are fork tender.
While the veggies are roasting, slice the kale into thin, 1-inch long pieces and add them to a large serving bowl. Sprinkle the kale with a pinch of sea salt and massage the leaves until soft and bright green. Core and dice the apple and toss it in the bowl with the kale.
Make the dressing – see Cranberry Drizzle option below.
When the veggies are done roasting, remove them from the oven. Stir in the roasted veggies with the kale and apples, toss with half the dressing, and top with the pumpkin seeds, dried cranberries, and reserved fennel fronds. Serve immediately with remaining dressing, if desired.
Note: If this is going to be the only main dish at your table, you could bulk it up with some quinoa, millet, or extra potatoes mixed in.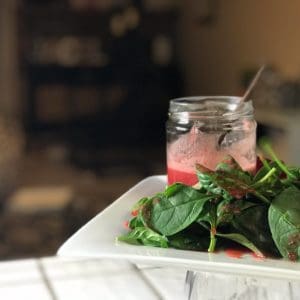 Cranberry Drizzle
Add a burst of cranberry flavor with a twist of sweetness to spruce up any salad. This super clean dressing is also packed with antioxidants, minerals, vitamins, and virus-fighting compounds ready to enhance your health!
Ingredients
1/2

cup

fresh lemon juice

(from about 4 lemons)

1/3

cup

pure maple syrup

1/3

cup

fresh cranberries
Instructions
Blend and add to any salad!
Recipe Notes
Optional add-ins: pecans, sliced pear, chopped apples, and dried cranberries. For those not avoiding fats, add ⅓ cup organic tahini to create a lovely creaminess.
OTHER MAIN DISH OPTIONS:
Sides
If you're eating plant-based or vegan, the sides are your meal at a traditional Thanksgiving dinner. However, these sides give the feel of the tradition but with a healthy twist – and lots of tastiness! These are easy to whip up to bring to a gathering or to compliment your main dish. Choose from below or use them all!
SIMPLE SWEET POTATO ROUNDS
I love sweet potatoes by themselves – they have such great natural flavor. However, you can dress these up however you like, with a drizzle of maple syrup or perhaps a lemon-tahini sauce for a savory feel. Any way you make them, enjoy the benefits of lowered blood pressure, easy digestion, and relaxed muscles and lots of cancer-fighting antioxidants – and their yummy taste! You can make these the day of Thanksgiving and reheat before serving.
Ingredients:
3-4 large sweet potatoes
Paprika, to taste
Optional: Himalayan salt, to taste
Optional: Black pepper, to taste
Optional: Fresh parsley
Instructions:
Preheat oven to 400 degrees.
Slice the sweet potatoes into ¼ inch rounds.
Place the rounds in a large pot and fill with water until covered. Boil for 5 minutes.
Drain and toss with himalayan salt, paprika, and black pepper (optional).
Bake for 15 minutes, flip, then bake another 10-15 minutes.
Let cool & enjoy!
Notes: You could use this recipe as an appetizer and put some creative toppings on top, such as mashed avocado with lemon juice, cranberry relish, salsa, cilantro pesto, or any other creations you can dream up!
CRANBERRY PEAR SAUCE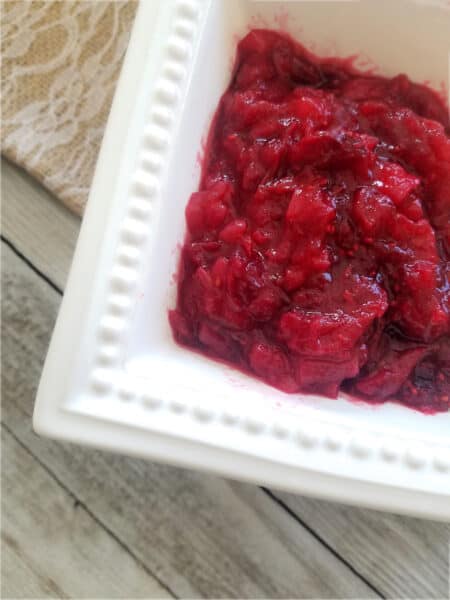 This is yummy recipe with pure ingredients is perfect for your Thanksgiving table! The pear compliments the tartness of the cranberries well, and the maple syrup adds the perfect fall flavor. Enjoy a boost of vitamin C and plentiful essential minerals from this recipe! Inspired & adapted from SkinnyTaste.
Ingredients:
12oz fresh or frozen cranberries (organic if possible)
2 ripe pears, peeled and cubed small
1/2 cup pure organic maple syrup
Instructions:
Combine all ingredients in a medium saucepan and bring to a boil over high heat.
Once the mixture reaches a boil, reduce heat and simmer for 15-20 minutes or until all the cranberries pop open and the sauce thickens.
Remove from heat and let cool before serving. (Optional: for a smoother texture, mash with a potato masher or blend slightly.)
Enjoy!
Notes: Store in the refrigerator for up to 1 week. Makes approximately 10-12 servings.
OIL-FREE MAPLE ROASTED CARROTS
This classic fall root vegetable is so delicious roasted with pure maple syrup – and you don't need oil or butter to do it! Carrots bring sweetness and heartiness, and pack a powerful nutritional punch!
Ingredients:
1.5 lbs full length carrots
2 tbsp maple syrup
Instructions:
Preheat the oven to 450 degrees.
Put the carrots in a pot and cover with water.
Bring the water to a boil, and cook until the carrots are soft enough to be pierced with a fork.
Drain and pat dry.
Spread out on a baking sheet covered with non-toxic parchment paper or a silicon baking mat. Drizzle the maple syrup on top and toss the carrots to coat. (Optional: sprinkle with cinnamon or paprika.)
Bake for 15-20 minutes.
Serve! (Optional: sprinkle with chopped pepitas.)
APPLE BAKED ACORN SQUASH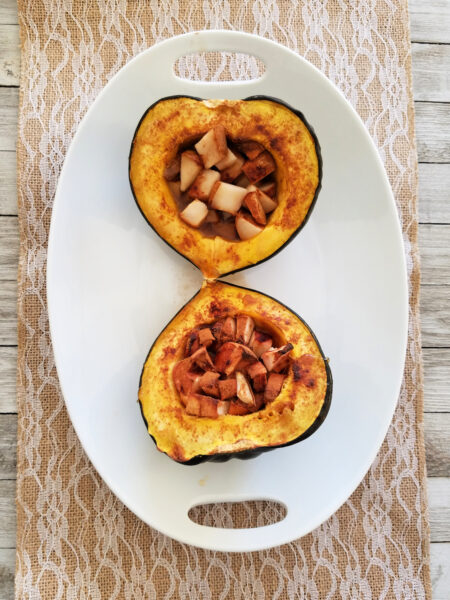 Inspired by Melissa Hanson of Hanson's Kitchen, this recipe is so simple yet contains such healing ingredients. Acorn squash is a wonderful way to boost the immune system, and pure maple syrup contains so many trace minerals and needed glucose for our brains and muscles. Throw in the apples and cinnamon and you've got yourself a perfect fall dish. It's so tasty it could be a side or a dessert!
Ingredients:
1 acorn squash
½ cup pure maple syrup
2 tsp cinnamon, divided
1 cup chopped apple or pear (or enough to fill both acorn squash cavities)
Instructions:
Preheat oven to 400 degrees.
Prep a glass baking dish by adding enough water to cover the bottom.
Scrub the outside of the squash. Carefully slice the acorn squash in half using a sharp, strong knife and scoop out the seeds.
In a medium bowl, toss the apple or pear with about half the maple syrup and all of the cinnamon until well coated (add more maple syrup if needed, depending on how much apple you need).
Add the apple to the cavities of the squash. Place in the baking dish and bake in the oven for 45-60 minutes, or until a fork can pierce the squash.
Remove from the oven. Drizzle the leftover maple syrup over the squash and sprinkle with extra cinnamon, if desired.
Enjoy!
Notes: Acorn squash skin is edible. For this reason, it would be best to get an organic squash if possible. You can also just avoid the skin by scooping with a spoon. If using as a dessert, pop them in the oven before you sit down for dinner. That way they won't take up oven space when making the dishes for the meal! You could also sprinkle dried cranberries on top before serving.
OTHER SIDE OPTIONS:
Dessert
I won't linger too long in this section because there are so many fantastic options out there for vegan or plant-based fall desserts! However, I have compiled some great recipes below for your perusal.
This is a great recipe reminiscent of "Grandma" and tastes delicious – just be aware of the fat content.
Ingredients:
Filling
2 pounds apples
1 tablespoon freshly squeezed lemon juice
¼ cup maple syrup
½ teaspoon ground ginger
¼ teaspoon fine sea salt
Topping
½ cups raw pecan pieces
½ cup shredded unsweetened coconut
1 tablespoon coconut oil, melted
2 tablespoons maple syrup
¼ teaspoon salt
¼ teaspoon almond extract
Instructions:
Preheat the oven to 250 degrees F.
To prepare the filling: Cut the apples into thin slices, about ⅛ inch thick, and place in a 3.5-quart Dutch oven. Add the lemon juice, maple syrup, cinnamon, ginger, and salt and stir to coat the apples well.
Place the pot over medium-high heat and bring the liquid to a boil. (You'll need to listen for the boiling, since the liquid won't cover the apples.) Once the liquid is bubbling, cover the pot and lower the heat so the apples can simmer for 8-10 minutes, until they are fork-tender.
To prepare the topping: While the apples are cooking, place the pecans and shredded coconut in a small food processor and process until crumbly. Add the coconut oil, maple syrup, salt, and almond extract and process again to combine.
Sprinkle the topping over the apples. Bake for about 30 minutes, until the top starts to look dry, then remove from the oven. Serve warm.
Make it nut-free:
For the topping, combine ¾ cup gluten free oat flour, ¼ cup melted coconut oil, ⅓ cup coconut sugar, ½ cup shredded coconut, and ¼ teaspoon salt in a small food processor and process until crumbly, Sprinkle over the apple filling and bake at 350 degrees F for 30 minutes, until lightly golden.
OTHER DESSERT OPTIONS:
Vegan Pecan Pie by Pies & Tacos

Notes: Be aware of the fat content in this recipe.

Sweet Potato Pie by Love Me, Feed Me

Notes: Spelt flour is not gluten-free. Substitute for millet flour or amaranth flour. If using amaranth flour, you may want to add a small amount of spices to make up for a more bland flavor. Millet has a great, nutty flavor. You can use aquafaba as listed in the recipe, or make 2 "flax eggs" by combining 2 tbsp ground flax with 6 tbsp water. Instead of cornstarch, use equal amount arrowroot powder.
Happy Thanksgiving!
I hope you enjoy your plant-based feast! May your life always be bountiful and rich in many ways.
Blessings,
Amber