What if I told you there was a fast track to both cleanse the body AND keep your lean curves?
This used to be unheard of.
I'm going to share the details, but first answer these questions:
Do you want to support your body to become stronger to fight off any sickness?
Are you feeling the pull to get healthier – but you're just not sure how, or don't have enough time?
Do you have health-related goals for 2021?
Does the thought of releasing stagnant energy light you up?
The Ultimate Lifestyle Transformation may be just right for you.
Typically when the body goes through a cleanse, it breaks down before you build back up (Catabolic).
This Transformation has gained huge popularity because of its ability to both cleanse and build/maintain simultaneously (Anabolic).
What does that mean? It means you get all the benefits of a total body reset, and you get to keep your healthy lean muscle. This is so important for energy, for the ability to burn body fat at rest, to support bone density, and to decrease the risk of chronic dis-eases.
The exciting byproduct of having strong muscles is the bonus of owning a shapely physique.
What is the Ultimate Lifestyle Transformation?

A SIMPLE WAY TO REBOOT YOUR HEALTH
Everything you need for 30 days comes in this pack (see more below). You use what's in the pack for breakfast, lunch, and other supports, and then eat a healthy whole-food plant based dinner. Want to lose weight? Maintain weight? Get more energy? Sleep better? Aid your digestion? This pack can help you toward these goals!
ORGANIC, NON-GMO, VEGAN
Have you heard the benefits of a plant-based diet but weren't sure how to start? The Ultimate Lifestyle Transformation is a fantastic way to get your feet wet! Have your first two healthy meals of the day taken care of while you just focus on making one health plant-based dinner a day. See below for how you can get my Go Vegan For 30 Days program for free with the ULT!
IMPRESSIVELY EFFECTIVE
Here are some testimonials from people who have used the ULT…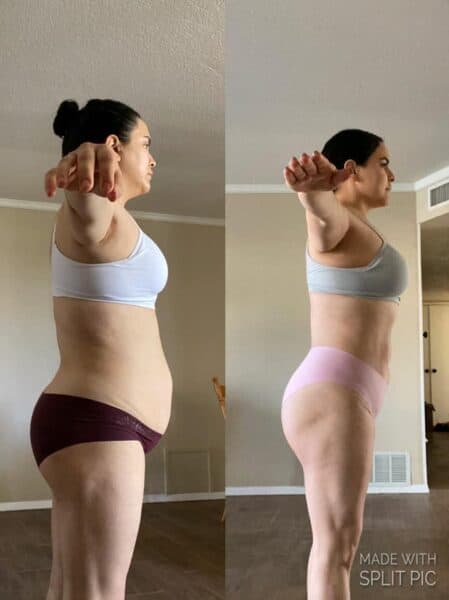 "26 day difference. I really encourage u to take photos. I don't weigh myself but I don't need a scale to show this 12.75 inch difference. From my upper back, mid tummy and lower tummy: 12.75 inches off in total. I feel alive! Whoop whoop stick to it guys. You can do this " – Mariah Morales
"I started the nutrition reset program 5 days ago and am down 14lbs. So far. I'm not hungry, full of energy, and super excited to see the final results! I've been vegan for years and this has been the best way to shed pounds so far." – Marisa Lamberto
"I just finished the nutrition reset. I lost 8 lbs total but more importantly It has helped me to develop better eating habits that I am determined to continue. My energy levels are great and people have told me that my skin looks nice. I have never done a cleanse because most of them were so short. I liked the idea of a 30 day commitment to make real changes. I wholeheartedly recommend this program." – Lynda E
"On day 26 of my cleanse and I never want the way I feel to stop! I have always tried my best to live a healthy lifestyle, exercised regularly, eating clean and healthy. But I have a very busy schedule and I struggled a lot with digestion issues, bloating and low energy, I would always need to rely on a lot of caffeine to get me through my day.
This cleanse has changed everything for me! I have never had so much energy. I feel amazing! And bonus is get to be more creative with cooking, trying new recipes and eating amazing plant based food!" – Chloe Satchell
FROM A CLEAN SOURCE
I have seen many similar products to what's in this pack, but haven't been impressed with any of the companies or their products – they tend to be full of artificial fillers and flavorings. You all know how keenly I focus on the ingredients in the products I use and recommend to my clients – how I research the company, their manufacturing practices, and their products before I test them myself. Then I test the products on myself and my family before recommending to any clients.
You can find meal replacement products for a dime a dozen – but no company comes close to this. The green manufacturing processes, clean ingredients, and commitment to effective pure products has made quite an impression on me – and now I personally use a wide variety of these products, and have seen many make a difference in the health journeys of my clients.
What products come in the Ultimate Lifestyle Transformation?
SUPER AMINOS 23 – PROTEIN
This is a huge part of the magic.
Super Aminos 23 is vegan pre-digested organic compounds that form building blocks to make protein. That has a 99% utilization rate – meaning, your body can use almost all of the protein in the tablets, versus about 14-22% of other proteins! Your muscles absorb it within 23 minutes and it helps burn fat. These aminos are what protect and sustain your lean body mass during this Transformation. These amino acids also are involved in almost every body function, including healing and repair, digestion, growth and development, energy to the body, synthesis of hormones and processing of neurotransmitters.
POWER SHAKE
Loaded with certified organic nutrient-dense superfoods, this nourishing shake is your breakfast and lunch. Depending on your goals, you can add it into a fruit smoothie or just add water, shake it up, and drink it down. With no artificial fillers or chemicals, it makes a healthy, easy, filling meal.
BIOME MEDIC
Get ready to rehabilitate your gut microbiome! Improving your gut health has so many benefits – including supporting your immune system. Not only does it help improve your gut, but it also helps remove glyphosate from the body – a commonly used pesticide that has been connected to cancer and many other bodily ailments. Glyphosate also impairs many of the crops' ability to produce the amino acids we need to get from our food. (See my Gut Health highlight on my Instagram page about this). In turn, the Biome Medic and the Super Aminos perfectly complement each other.
APOTHECHERRY
Having trouble sleeping? This is your answer! The first time I tried this, wow, just wow. I slept so good and so deep. That deep sleep is what we need for healing.
The only ingredient? Organic cherries – the largest source of naturally occurring melatonin. Sleep is such an important time for the body to detox and repair itself, and Apothecherry is one of the best at helping this happen. Plus, you get tons of antioxidants and anti-inflammatory properties to support your healing journey.
SUPER CLEANS-R
If you're cleaning out your body, it is super important to support your excretory organs! Your colon is a major part of how all those nasty things actually leave your system and trouble you no longer. During your 30-day transformation, Super Cleans-R is a great way to make sure everything you've been cleaning out leaves your body – plus, it also has anti-parasitic properties.
How do I use the Ultimate Lifestyle Transformation?
The great thing about this program is you can make it work for you. There are three different suggested schedules you can use: a simple schedule, an accelerated schedule, or an intermittent fasting schedule. This is what your day could look like:
Wake up and take Super Amino 23.
Breakfast: Power Shake & take Biome Medic.
(Snack)
Lunch: Power Shake
(Snacks)
Dinner: Healthy plant-based dinner and take Biome Medic. The last 10 days of your Transformation, you'll also take Super Cleans-R.
Before bed: Apothecherry
Super simple, but so powerful.
I'm in! How do I get the Ultimate Lifestyle Transformation?
If you're ready for better energy, deeper sleep, easier digestion, and a healthier lifestyle – you can get the Ultimate Lifestyle Transformation HERE. Plus, if it's your first time ordering with me, you can use the code AMBERBODILY to get a huge discount! That makes the Ultimate Lifestyle Transformation just $11 a day.
I really like this Transformation for anyone who is short on time but big on results.
Cheers to a healthier you in 2021!
Ignite the healer within,
Amber
P.S. We have Bonuses for you!  Everyone who purchases the Ultimate Lifestyle Transformation through my link will get my "Go Vegan for 30 Days Program" for FREE as a gift ($30 value)! Also, you will get support in the Free Facebook Group!
HOW TO REDEEM YOUR BONUSES:
*To redeem your "Go Vegan for 30 Days Program" for FREE, please follow these instructions.  After your purchase of the Ultimate Lifestyle Transformation through my link, come back to this page, click on this link to enter your details and upload a photo of your online receipt, and you will be automatically enrolled into my program!
**To get into the Free Facebook Support Group: After purchase, send a friend request to Melissa Hanson here and message her with "Amber Bodily" and she will add you to the group!
Other Resources to help you on your Transformation:
Go Vegan for 30 Days Blog Post – CLICK HERE
3 Guaranteed Secrets to weight Loss You've Never Heard Before Blog Post – CLICK HERE
5 Myths About Protein That You Need To Know Blog Post – CLICK HERE
How To Use Food To Make You Happy The Healthy Way Blog Post – CLICK HERE
How To Detox Your Body From Toxic Cleaning Chemicals The Natural Way Blog Post – CLICK HERE
9 Ways To Reset Lymph Flow And Decrease Bloating Blog Post – CLICK HERE